EZ-ZONE® Expansion Module (RME)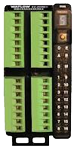 Expansion Module Specifications (RME)
(Select an RME module for additional inputs and outputs and higher amperage outputs.)
Requires 24 to 28VAC/VDC power supply, includes communication port for configuration with EZ-ZONE configurator and PC.
---
Specifications
Line Voltage/Power
Power consumption: 7 W, 14VA
Any external power supply used should comply with a Class 2 or SELV rating
Serial Communications
All modules ship with standard bus protocol for configuration and communication with all other EZ-ZONE products
Wiring Termination—Touch Safe Terminals
Right angle and front-screw type terminal blocks (slots A, B, D, E)
Input, power and controller output terminals, touch safe, removable, 12 to 30 AWG
Ring lug terminal blocks (slots A and D only)
Input, power and controller output terminals are touch safe and removable
Digital Input
Update rate 10Hz
Max. input 36VDC at 3mA
Min. high state 3VDC at 0.25mA
Dry Contact
Min. open resistance 100kΩ
Max. closed resistance 50Ω
Output Hardware (6 digital inputs/outputs)
Update rate 10Hz
Switched dc
Output voltage 20VDC max.
Max. supply current source 40mA at 20VDC and 80mA at 12VDC
Open collector
Switched voltage max. 32VDC
Max. switched current per output 2.5A
Max. switched current for all six outputs combined 10A
Dual Solid State Relay
Two SSR board option, Form A, 10A max. each SSRs combined @ 24VAC min., 264VAC max., opto-isolated, without contact suppression, max. resistive load 10A per output at 240VAC, max. 20A per card at 122°F (50°C), max. 12A per card at 149°F (65°C)
Four Mechanical Relay
Four electro mechanical relays, Form A, 5A, 24 to 240VAC or 30VDC max., resistive load, 100,000 cycles at rated load. Requires a min. load of 20mA at 24V, 125VA pilot duty
Tri-Process (Three universal process/retransmit outputs)
Output range selections: 0 to 10VDC into a min. 4KΩ load
0 to 20mA into max. 400Ω load
Quad SSR
Four SSRs at 2A each. SSRs are grouped in 2-pairs with each sharing a common.
Programmable Application Blocks
Compare
Greater than, less than, equal, not equal, greater than or equal, less than or equal
Counters
Counts up or down, loads predetermined value on the load signal. Output is active when the count value equals or exceeds predetermined target value
Linearization
Interpolated or stepped relationship
Logic
And, nand, or, nor, equal, not equal, latch, flip flop
Math
Average, process scale, deviation scale, differential (subtraction), ratio (divide), add, multiply, absolute difference, min., max., square root, sample and hold, altitude and dew point
Process Value
Sensor backup, average, crossover, wet/dry bulb, switch over, differential (subtraction), ratio (divide), add, multiply, absolute difference, min., max., square root, altitude, visala and dew point
Special Output Function
Compressor – turns on-off compressor for one or two loops (cool and dehumidify with single compressor)
Motorized valve – turns on-off motor open/closed outputs causing valve to represent desired power level
Sequencer – turns on-off up to four outputs to distribute a single power across all outputs with linear and progressive load wearing
Timers
On pulse – produces an output of fixed time on the active edge of timer run signal
Delay – output is a delayed start of timer run and off at same time
One shot – oven timer
Retentive – measures timer run signal and output on when accumulated time exceeds target
Variable
User value for digital or analog variable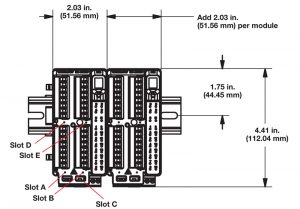 | (4) | | Connector Style |
| --- | --- | --- |
| A | = | Right angle screw connector (standard) |
| F | = | Front screw connector (slots A, B, D and E only) |
| R | = | Ring lug connector (if ordered, then slots B and E must be = A) |
| S | = | Custom |
| (5) | | Slot A |
| --- | --- | --- |
| A | = | None |
| C | = | 6 digital I/O |
| F | = | 3 universal process/retransmit outputs |
| J | = | 4 mechanical relay 5A, Form A |
| K | = | 2 SSRs, Form A, 10A max. each (if ordered, then slots B must be = A). |
| L | = | 4 SSR's at 2A each. SSR's grouped in 2-pairs with each pair sharing a common. |
| (5) | | Slot B |
| --- | --- | --- |
| A | = | None |
| C | = | 6 digital I/O |
| F | = | 3 universal process/retransmit outputs |
| J | = | 4 mechanical relay 5A, Form A |
| L | = | 4 SSR's at 2A each. SSR's grouped in 2-pairs with each pair sharing a common. |
| (5) | | Slot D |
| --- | --- | --- |
| A | = | None |
| C | = | 6 digital I/O |
| F | = | 3 universal process/retransmit outputs |
| J | = | 4 mechanical relay 5A, Form A |
| K | = | 2 SSRs, Form A, 10A max. each (if ordered, then slot E must be = A). |
| L | = | 4 SSR's at 2A each. SSR's grouped in 2-pairs with each pair sharing a common. |
| T | = | Quad inputs for external current transformers. Can do either single-phase or three-phase system measurement for all hardware outputs ordered within the expansion module. |
| (5) | | Slot E |
| --- | --- | --- |
| A | = | None |
| C | = | 6 digital I/O |
| F | = | 3 universal process/retransmit outputs |
| L | = | 4 SSR's at 2A each. SSR's grouped in 2-pairs with each pair sharing a common. |
| T | = | Quad inputs for external current transformers. Can do either single-phase or three-phase system measurement for all hardware outputs ordered within the expansion module. |
Firmware, Overlays, Parameter Settings
| (11)(12) | | Additional Options |
| --- | --- | --- |
| AA | = | Standard |
| AB | = | Replacement connectors hardware only, for the entered part number. Additional cost for the model can be disregarded as you are only ordering replacement connectors. |
| 12 | = | Class 1, Div. 2 (not available with integrated limit controller or mechanical relay options). |
| XX | = | Custom |